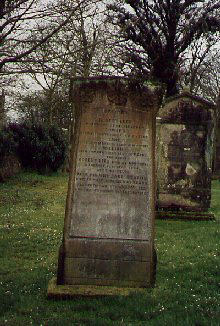 Grave of my G G G Uncle Robert LEES (LEESE, MCLEES).
He unfortunately had an extremely painful death. Newspaper Article following below...
The headstone reads:
Erected by Robert LEES in memory of his children
Edward died 17 October 1866 aged 2 years
Jane died 30 May 1879 aged 10 months
William died 2nd February 1894 aged 26 years
THE ABOVE
Robert LEES died at Mid Torrs, Dunragit, 23 December 1894 aged 49 years
also his wife Jane BEATTIE died 29th September 1908 aged 63 years
also their daughter Mary LEES who died 14 March 1942 aged 60 years

MAN SEVERLY SCALDED AT DUNRAGIT CREAMERY.
On Wednesday afternoon last Robert Lees, 50 (sic) years of age, and residing at Mid Torrs, Old Luce, met with an accident by


scalding at Dunragit Creamery where he was employed as pigfeeder.

It seems that in the course of his vocation he had lifted the lid off a boiler, and, on returning to the housein which the boiler was situated, he found it full of steam. While taking measures to shut off the steam he unthinkingly stepped back into a boiler, which contained boiling water to the depth of about three feet, and was severely scalded. He was conveyed home, and medical
aid was summoned.


WIGTOWN FREE PRESS 20-12-1894
THE SCALDING ACCIDENT AT DUNRAGIT - FATAL TERMINATION. - Robert Lees, who met with the




serious scalding accident a fortnight ago at Dunragit Creamery where he was employed, died




at his residence at Mid Torrs on Sunday evening at 10.30 o'clock. Deceased was fifty years


of age, and leaves a widow and family.
WIGTOWN FREE PRESS 27-12-1894





Main home page ||| About me ||| Surnames from my lines ||| Surnames from my ex husbands lines ||| New Zealand Museums Online